Tostig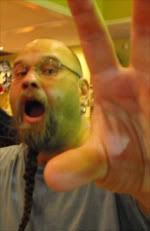 When were you in cast, when did you join, or how long have you been in cast?
I joined cast this spring (2010). I'm not sure of the exact date. I had been helping with security for over a year before I decided to join.
What is your favorite part to play?
So far, my favorite part to play is of Big Ugly Guy Guarding the Doors. I think I've got it down pretty well.
Which scene is your favorite?
There are so many "great" scenes, how could I choose just one? That's like asking me to choose a favorite child (just fyi; that'd be my daughter)
Which character is your favorite?
I'd have to say I don't have a favorite character; rather, I have a group of favorite characters. They're the ones on stage, in the aisles, and doing lights.
Do you have a favorite callback?
Being the big geek I am, I'd have to say it's "Hey Frank, who gives the best blow jobs on the Starship Enterprise?"
Where are you from?
I was born and raised in Arizona (all over Arizona) but I have also lived in several other states. I've hit 3 of the 4 corners of the continental states but I refuse to live in Florida. Sorry, Florida, you'll have to do without me.
What do you do for work or what do you study in school?
I'm a techie. Most of my experience is doing QA. I'm starting with a VoIP company soon supporting their servers. I'm also working on my Masters of Information Systems degree.
What interests you beside RHPS?
In order of preference: Drinking, disc golf, drinking, dungeons and dragons, drinking, watching movies, drinking, brewing mead, camping, and drinking.
What is your favorite non-RHPS movie?
The Princess Bride is my all-time favorite movie. I'd love to see it shadowcast some day.
Aside from that, I just love movies in general. I estimate I've watched over 5000 movies so far, and counting (around 4000 rated on netflix, and I still find movies I've seen I haven't rated yet)
What is your favorite book or who is your favorite author?
It depends on the genre.
Horror: Stephen King and Clive Barker
Science Fiction: C.J. Cherryh
Fantasy: Elizabeth Moon
Not sure how you'd classify Neil Gaiman and J.K. Rowling, but they're awesome too.
A little more about me.
My beard is it's own entity. Do not anger the beard. Anything else you want to know, just ask. I'll answer any question.