Tim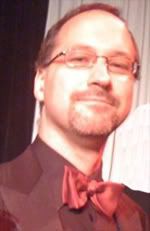 When were you in cast, when did you join, or how long have you been in cast?
I joined at the beginning of October 2011, shortly after I turned 40.
What is your favorite part to play?
Tough one. At the moment, I love being Riff.
Which scene is your favorite?
Takeover. Anything can happen at that moment, and I love making it happen.
Which character is your favorite?
Frank…
Do you have a favorite callback?
"My legs! I can't move my legs!!!"
Where are you from?
Upstate New York where I lived most of my childhood until I moved to England for 9 years.
What do you do for work or what do you study in school?
I'm a computer engineer for a web filter company.
What interests you beside RHPS?
My kids. Doctor Who. Sleep.
What is your favorite non-RHPS movie?
The Incredibles
What is your favorite book or who is your favorite author?
My current favorite is "John Dies at the End"
A little more about me.
I love surprising people.