Sean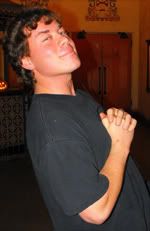 When were you in cast, when did you join, or how long have you been in cast?
i got onto cast in april.
What is your favorite part to play?
i actually haven't learned any parts yet so they run me around to take care of the odds and ends like lighting and prop movments.
Which scene is your favorite?
i guess it would have to be damn it jannet since its the one sceen with the most callbacks and energy.
Which character is your favorite?
riff raff. nothing like a crazy looking bald guy.
Do you have a favorite callback?
several, though i guess it would have to be the one i first learned which was "ding dong asshole calling, slut for sale; cheap" "how cheap?" "so cheap she's got a condom in her hair!"
though i do have my own callback i really like which is "what muscles do you masterbate with?" said right before frank sings the musle groups.
Where are you from?
the back ass foothills of nowhere. also known as vally center.
What do you do for work or what do you study in school?
i am currently going to college to get an assoiciates degree in paramedics. then after that? who knows. i plan on going as far as i can with learning.
What interests you beside RHPS?
Martial arts. as of right now i am currently learning Tae kwon do. i plan on learning other forms of martial arts.
What is your favorite non-RHPS movie?
tough call. i would have to say however fear and loathing in las vegas.
What is your favorite book or who is your favorite author?
the dream of a ridduculous man—-dostoeyvesky.
A little more about me.
im actually a christan and enjoy doing what i can for the community.