Maus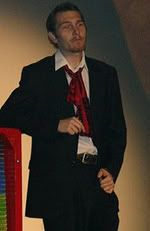 Mouse would like to know, do you like the taste of purple?
[www.facebook.com/ch.maus](I am a whore for talking to audience members so message away)
More info and stuffs:
Years going to CI: 8
Years on Cast: 7
Current Characters : Eddie, Dr. Scott, Criminologist.
Characters played before: Eddie, Janet, Trixie, Dr. Scott, Criminologist, Columbia
Characters I will eventually get around to: Rocky, Riff Raff, Brad, your mom.
Favorite Character: Eddie/Dr. Scott