Esparza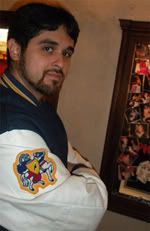 When were you in cast, when did you join, or how long have you been in cast?
I joined cast on March 9, 2007, before that I've been a regular since Feb. 13, 2004
What is your favorite part to play?
Eddie will always be my number one role
Which scene is your favorite?
Hot Patootie
Which character is your favorite?
Eddie.
Do you have a favorite callback?
"AAAHHH MY DICK WAS IN THE DOOR!!"
Where are you from?
Born in West Longbranch, New Jersey. My pop was in the Army so I was raised mostly in Germany (and no I don't speak German) and I currently reside in Oceanside.
What do you do for work or what do you study in school?
Work has been an on and off thing for me, and school is something I've been wanting to get back into
What interests you beside RHPS?
Video gamin, eatin, sleepin, chilling with friends, drivin, and boozin'.
What is your favorite non-RHPS movie?
Too many to choose from.
What is your favorite book or who is your favorite author?
The Halo books are my fav. Don't have a fav author. I've been slowly getting back into reading.
A little more about me.
I'm Esparza. My first name is reserved for those I have known for a long time and have deep respect for. After done setting up, I usually go outside and check the line for any trouble makers. Thats usually the best time to come talk to me, so chat me up =). But please do it in a modest manner, as I hate egos. I'm half mexican, so you'll sometimes hear some mexican jokes being thrown at me. As long as its in good jest, right? Along with the "Dammit, Esparza" joke you'll hear everynow and then, I have enough to keep me entertained. But that doesn't mean more can't be thrown my way, right? ;)