Amy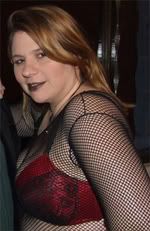 When were you in cast, when did you join, or how long have you been in cast?
I have been a part of Crazed Imaginations since the mid 1990s. CI is really the main driving force in my social life. I was the cast director for about 10 years, and left when that stopped being what I wanted to do. I couldn't stay away long, and now I am back to be a cast member and love every minute of that.
What is your favorite part to play? Originally it was Columbia, but now it's Janet. I love being Janet and taking the audience along on my character's ride.
Which scene is your favorite? I love the scene where Frank asks Janet if she has any tattoos, then Riff interrupts them. I love how that plants the seeds of the seduction, and you can see the inevitable betrayal in Riff's eyes.
Which character is your favorite? I love watching Frank N Furter
Do you have a favorite callback? "Beats me, but I got a hunch!" (I love bad puns)
Where are you from? I grew up in Western Michigan, but I have lived in San Diego for a long time.
What do you do for work or what do you study in school? I have had a career as a microbiologist, and I am finishing school for a Masters in Public Policy.
What interests you beside RHPS? I enjoy Renaissance recreation events, but I have never really gotten in to them beyond having basic costumes and partying at their camping trips. I love theater, and science fiction. I also like a good urban fantasy.
What is your favorite non-RHPS movie? I mostly prefer books to movies. I have liked a lot of them, but I'm not sure I can list a favorite.
What is your favorite book or who is your favorite author? I love the Lord of the Rings Trilogy, and my favorite current author is Kim Harrison. I enjoy classical literature, but I don't find myself reading it a much.